Patent Palooza! Celebrates UK Innovators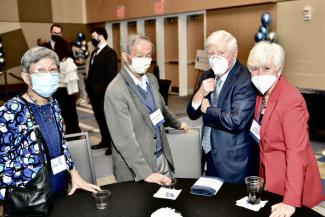 The University of Kentucky's Office of Technology Commercialization (OTC) recognized and celebrated UK innovators at its Patent Palooza! event Nov. 9. The in-person event brought almost 100 attendees to celebrate the accomplishments of UK innovators and recognize special award recipients.
The event covered accomplishments over the last three fiscal years and recognized over 100 UK innovators for 82 patents issued, 86 licenses and options executed, 10 SBIR/STTR (Small Business Innovation Research-Small Business Technology Transfer) awards received, and 17 accelerator program participants.
Ian McClure, J.D., associate vice president for research, innovation and economic impact, kicked off the celebration with welcoming remarks, which included a moment of silence for the late Susan Odom, Ph.D., UK College of Arts and Sciences associate professor of chemistry, and OTC commercialization manager Natasha Jones, J.D.
McClure also announced the launch of OTC's "I Am A UK Innovator" campaign, which spotlights UK innovators and their innovative technologies. The compilation video features Gilson Capilouto, Ph.D.; Kunlei Liu, Ph.D.; Madhumathi Rao, M.D.; and Joshua Werner, Ph.D.
UK Vice President for Research Lisa Cassis provided remarks, and introduced UK President Eli Capilouto's video message. OTC Director Taunya Phillips recognized the accomplishments of UK innovators and special award recipients, and announced the winner of the "Most Innovative-Looking" face mask competition, Luke Bradley, Ph.D.
Hsin-Hsiung Tai, Ph.D., and David S. Watt, Ph.D., each received a milestone patent commemorating their 10th patent. Elaine Jacobson, Ph.D., and Myron Jacobson, Ph.D., accepted the Lee T. Todd Jr. Lifetime Achievement Award in Entrepreneurship based on their entrepreneurial accomplishments as co-founders of Niadyne and Niadyne Pharma. The technology was developed by the Jacobsons at UK's College of Pharmacy. UK startup PowerTech Water Inc., co-founded by Cameron Lippert, Ph.D., and James Landon, Ph.D., received the Global Impact Award based on licensing and developing products around UK technology and meeting a significant milestone of closing $6 million in venture capital. The technology was developed at UK's Center for Applied Energy Research by Xin Gao, Ph.D.; Ayokunle Omesebi, Ph.D.; and Kunlei Liu, Ph.D.
The awardees and attendees had an opportunity to network and connect. It was a fun night celebrating three years of accomplishments around innovation.
"This year's Patent Palooza! was very special, after not being able to celebrate for three years. UK's innovative and entrepreneurial spirit shone brightly," said Phillips. "The honorees, their colleagues and family, and community supporters, all enjoyed the recognition ceremony and the in-person networking. OTC is proud to work alongside amazing people who wish to commercialize their innovations for the benefit of society."
To learn more about this event and the honorees, visit Patent Palooza!