Sanders-Brown Center on Aging featured in special on WKYT this Monday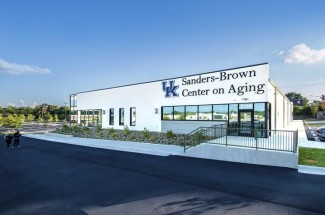 This Labor Day, WKYT-TV, is highlighting the world-class work going on at the University of Kentucky's Sanders-Brown Center on Aging. The Lexington-based CBS affiliate will air a 30-minute special on their second station, The CW, at 6:30 p.m. Monday, Sept. 4.
Sanders-Brown has been a leader in Alzheimer's disease research for decades. Throughout the past few months, a team from WKYT has followed researchers, patients, doctors, and nurses — all of whom are dedicated to ending Alzheimer's.
Alzheimer's disease is an irreversible, progressive brain disorder affecting more than 6.5 million Americans that slowly destroys memory and thinking skills. While the specific causes are not fully known, it is characterized by changes in the brain like amyloid beta plaques or tau tangles. These changes affect a person's ability to remember and think.
The project with WKYT came during a crucial time for the field with a major victory in the fight against Alzheimer's happening on Jan. 6, 2023. On that day, the U.S. Food and Drug Administration (FDA) granted accelerated approval for the drug lecanemab, also known by its brand name Lequembi. The medication is used to treat and reduce amyloid plaques that develop in a person's brain.
The FDA approval meant patients diagnosed with mild dementia could begin taking the medicine with a prescription. Before this decision, some research participants at Sanders-Brown had been receiving the drug as part of a clinical trial.
The news program will take a deeper look how Sanders-Brown has been and continues to be at the forefront of discoveries like lecanemab as well as how their work directly impacts those living with Alzheimer's disease and their loved ones.
The half-hour program will also focus on the classification of a new form of dementia, ongoing work to increase diversity within research at Sanders-Brown, the special bond between participants and nurses, and how they are celebrating these breakthroughs while also staying focused on the ultimate goal of finding a cure.
Watch the WKYT special at 6:30 p.m. on Sept. 4th on the station's second channel The CW Lexington.