UK grad studies water resources in Ukraine through Fulbright scholarship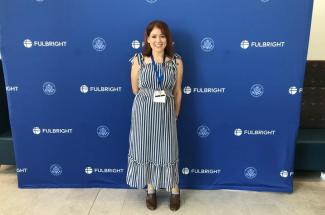 "Aren't you the woman who was recently given a Fulbright?" Paul Simon sang in 1986.
As a child, Elizabeth Avery was inspired by that verse, and this week she will receive a Ph.D. in geological sciences from the University of Kentucky, based on her Fulbright research in Ukraine.
Avery's path to a doctoral degree was nontraditional. After earning bachelor's and master's degrees in English at California State University, East Bay, she explored different career options. An undergraduate course in oceanography awakened her interest in geology and hydrology, which led her to a second master's degree at the same institution. She worked more than three years as an environmental consultant before deciding to pursue a Ph.D. in 2017.
Avery applied to multiple doctoral programs, but says after visiting UK, she realized, "This is the place."
"It was everyone in the Department of Earth and Environmental Sciences (EES) that I met with — the faculty, staff and other students," Avery said. "Everyone was doing such fascinating work and were so friendly. It felt like a really collaborative environment."
Avery began working with Associate Professor Andrea Erhardt, who would become her primary Ph.D. advisor. Erhardt directs the Kentucky Stable Isotope Geochemistry Laboratory at UK. This facility is equipped to analyze hydrogen, oxygen, carbon, nitrogen and sulfur isotopes in a broad range of compounds, and it provides training for faculty and students, like Avery. EES researchers work not only across the United States, but in South America, Europe, Africa and Asia.
While completing her coursework and a graduate certificate in Stream and Watershed Science, Avery applied for a Fulbright student award to assess water resources in north-central Ukraine. Her application stood out — relatively few Fulbright researchers focus on hydrology.
"When it comes to stable isotopes of precipitation, there are a number of countries in Eastern Europe where this research is a bit sparse (at least what is available publicly)," Avery said. "I knew that Ukraine is an important agricultural area and that climate models indicate changes to temperatures and precipitation patterns in the future, so I thought my research could contribute meaningfully there. There are stable isotope studies that have been done in Ukraine, but not in the Kyiv and Cherkasy regions."
Avery arrived in Kyiv in September 2019 and designed a program to monitor hydrogen and oxygen isotopes in rainfall, river water, groundwater and tap water at multiple sites. She collaborated with her host, Iryna Vyshenska, Ph.D., and students at National University Kyiv-Mohyla Academy to collect samples. International field work is often challenging, but the COVID-19 pandemic created additional challenges. Avery opted to remain in Kyiv through June 2020, when she returned to UK to analyze her samples and write her dissertation.
Avery published two papers this fall on her research with Ukrainian colleagues and EES advisors in the journals Isotopes in Environmental and Health Studies and Discover Water. These papers provide information on the processes affecting precipitation in north-central Ukraine and on the sources of water used for municipal water supplies in the Kyiv region. Her work has practical relevance for a country facing the twin challenges of war and climate change. Avery hopes to continue collaborations there to help form a more complete picture of water resources in the region.
"I am so glad I applied to Ukraine; I had the opportunity to not only work with brilliant and inspirational colleagues but to interact with many wonderful people," she said. "There were so many opportunities to exchange cultural experiences/ideas through volunteering, going to the university and out to see the city and other regions, and working with people who kindly volunteered to help collect samples.
"Really, I am excited to see what comes next. My experiences with Fulbright especially have inspired me to not only continue collaborating (when feasible of course) but to also never close myself off from new possibilities. The future can be unexpected and challenging, but can also bring incredible opportunities, friendship and joy."