UK Social Work launching Oculus VR support group for foster teens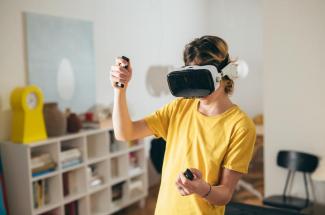 Building on the success of Adoption Support for Kentucky (ASK), the College of Social Work (CoSW) at the University of Kentucky is expanding its virtual reality (VR) program to support teens in foster care.
ASK is an innovative approach to providing support to foster, adoptive and kinship caregivers across the Commonwealth. The award-winning program harnesses technology to offer engaging trainings and inclusive support groups.
Peer support is a powerful tool for connection — bringing people together based on shared experiences.
Traditionally, these groups meet in-person. But virtual support is becoming more accessible due to technology, especially during the COVID-19 pandemic. This setting gives participants who are homebound, have social anxiety, live in rural areas, have busy schedules or prefer anonymity the opportunity to connect with mentors and peers.
The CoSW program includes two ASK Teens VR support groups for teens ages 14-17 who are currently in foster care. The sessions will be co-facilitated by both licensed clinicians and former foster youth. One group is designed specifically to support LGBTQ+ teens.
Ultimately, facilitators will use virtual reality to create a safe, compassionate environment for teens to share with one another and receive peer support.
"Being a teen can be a challenging time and finding a support system is vital to their mental and emotional well-being," Lauren Lynch, the ASK program coordinator, said. "Technology is also a big part of their lives, so incorporating that in a way that allows teens to feel safe, connected and seen as they truly want to be is the driving force behind the pilot. I am thrilled to be a part of this initiative."
Why virtual reality?
UK CoSW Dean Jay Miller stumbled into the concept of using Oculus VR to facilitate social work services through happenstance — after setting up a headset for his son.
"I've never been into gaming concepts, in general," Miller said. "But after putting on a headset and engaging with the experience, I really began to see the potential in approaching service deployment in a fundamentally different way. Ultimately, it reframes what it means to 'game.'"
The first CoSW Oculus VR program pilot successfully began with an ASK support group for adoptive and foster fathers earlier this year.
This latest expansion aims to meet teens where they are — a generation accustomed to interacting online with the latest technologies. The use of avatars also gives participants the opportunity to choose how they appear and engage with the world.
Additionally, the initiative is a collaboration between the university's esports program and the Office of Technology Commercialization (OTC).
"UK esports is very excited by the collaboration and success of the ASK VIP initiative. Games and gaming technology provide new ways to inspire, educate and innovate," Erik Jarvis, operations lead for the UKFCU Esports Lounge, said. "This approach by CoSW lays a 21st century foundation for teaching, learning and engagement. The possibilities to iterate on this approach in the future cannot be overstated."
"We are excited to partner and support the CoSW and its innovations to enhance support services for the children and families of the Commonwealth and beyond," Serenity Wright, associate director of Social Innovation, added. "This is precisely the type of programming the Social Innovation team in OTC is honored to elevate."
This latest pilot is just the beginning. Miller plans to continue expanding resources and opportunities through an eService Initiative.
The initiative is designed to prepare future social, mental and behavioral health professionals to engage with — and deploy — innovative services through technology solutions.
"The future of service is technology," Miller said. "If we are to actualize the promise of ensuring efficacy, efficiency and accessibility to those in need of services, we must ensure that our workforce is prepared to use, assess and improve that tech. That is what our eService Initiative is all about. We have been extremely fortunate to engage with some great partners in making this work happen."
The CoSW will provide all necessary equipment for teens to participate in the six-session program, and participants are also eligible to receive a financial incentive upon completing the series and providing feedback.
Interested and eligible participants can sign-up by visiting the CoSW website. For additional information, email ukcosw@uky.edu.