UK to Spotlight Innovators, Entrepreneurs at Virtual 2021 Entrepreneur Showcase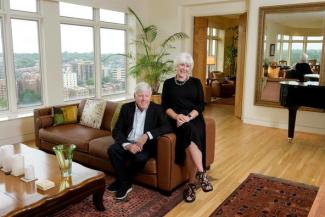 The University of Kentucky (UK) Office of Technology Commercialization (OTC) in partnership with the UK Alumni Association and UK Philanthropy will host its UK Entrepreneur Showcase noon-1:15 p.m. EDT Thursday, April 8, on Zoom. The event offers an opportunity for everyone to learn about the innovative and entrepreneurial work UK faculty, UK alumni and community startups are doing.
Keynote speakers Elaine and Myron Jacobson will receive the Lee T. Todd Lifetime Achievement Award for Entrepreneurship. They are the co-founders of Niadyne and Niadyne Pharma and have worked as a research team for nearly 50 years. Their research has focused on understanding the roles of vitamin B3 and vitamin B3-derived molecules in human health. Their research in this area was continuously funded by the National Institutes of Health for nearly 40 years and led to more than 150 published papers and more than 25 patents.
Presenter Luke Bradley, Ph.D., faculty innovator and co-founder of Avast Therapeutics is currently a Chellgren Endowed Professor in the UK Department of Neuroscience and is also affiliated with UK's Brain Restoration Center, College of Medicine. He co-founded Avast Therapeutics to develop identified lead candidate biomolecules for the treatment of neurological disorders.
Presenter Gilson Capilouto, Ph.D., faculty innovator and co-founder and chief clinical officer of NFANT Labs is professor emerita in UK's College of Health Sciences. She is co-inventor of an FDA-cleared medical device designed to generate objective metrics related to infant sucking performance — a biomarker for neonatal brain injury and growth prediction. NFANT products are being implemented as a standard of care in children's hospitals across the United States.
Presenter James McCollum, Launch Blue Incubator participant, and co-founder and chief of product of Synaptek, is a product developer/designer by trade and has had roles in product development, design, management and marketing. Synaptek provides the ultimate app for managing concussion care.
Presenter Janelle Molloy, Ph.D., Launch Blue Accelerator participant, and founder and owner of Wild Dog Physics, has been a medical physicist for over 30 years and was director of Medical Physics in UK's Department of Radiation Medicine. Wild Dog Physics has created an innovative approach to cancer care through a new generation of radiation therapy quality assurance technologies.
Presenter Tony Schmidt, alumni entrepreneur, and CEO of GreekTrack, built a membership management website to help with chapter operations for his fraternity. GreekTrack is a subscription service that helps fraternities and sororities manage their events, membership, finances and more.
"The Entrepreneur Showcase is a wonderful way to promote the incredible research and advances in technology from our UK faculty and alumni ... in turn, this event helps to create even greater awareness of these advances to an even broader audience," said Don Witt, assistant vice president, UK Philanthropy.
"UK Entrepreneur Showcase is our annual event to spotlight our faculty, staff, student and alumni entrepreneurial talent and new ventures," said Ian McClure, executive director of OTC. "It helps us connect burgeoning UK entrepreneurs to successful and seasoned ones from our alumni base, and we are proud to tell the world about both! We hope the UK and surrounding community will come hear about the next generation of startups and technologies that aim to change the world, and why UK is developing a premier entrepreneurial culture."
Register here for the virtual UK Entrepreneur Showcase 2021.